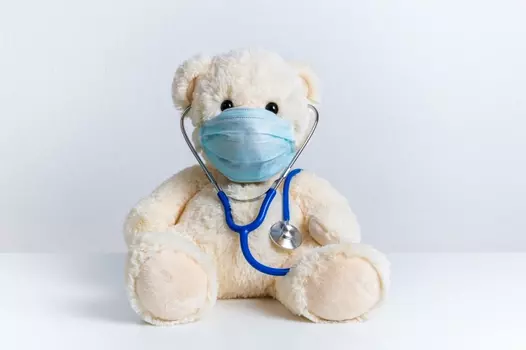 When your child is diagnosed with a physical health condition
Mandy Bryon and Penny Titman, authors of Helping Your Child with a Physical Health Condition, here consider the impact on parents of finding their child has a medical health issue.
In this blog post, we will use the term 'physical health condition' in a broad sense, to include a wide range of medical diagnoses, genetic conditions and illnesses affecting children who require regular, often complicated treatments or specialised management. The physical health condition is long term, not a few days of being unwell, and therefore not something that all other parents have experienced or understand. It may be that the usual sources of support available – for example, other parents and friends – might not be able to understand and so parents often feel they are coping alone following the diagnosis of a physical health condition. These sorts of conditions range from those that are relatively common, though no less worrying, such as asthma (which occurs in 1 in 11 children), to rarer conditions, such as cerebral palsy (about 1 in 400 children) and cancer (about 1 in 500 children).
Hopes and Expectations for Your Child
Most parents expect to have a healthy baby. So, when things don't go as expected either at birth, shortly afterwards, or at a later stage in childhood, it can hit you like a ton of bricks. When parents are told that their child has a significant health difficulty, they often use words like 'devastated', 'catastrophic', 'state of panic', 'unbelievable', 'world torn apart'. The diagnosis often hits so hard because it appears to change all their prior hopes, plans and expectations. The diagnosis is not just information about the child, but potentially removes many of their previously held dreams of parenting a child and what the child may become.
In our experience, this initial phase changes and parents do re-establish realistic hopes and expectations once again, but it takes some time and work, not least emotionally, to restore those balances. If this challenge to the natural hopes and expectations of parenting isn't acknowledged, parents are often left managing these feelings alone and in isolation.
Many parents feel that no one understands what they are going through. Sometimes even closest friends and family are not capable of providing the support needed; it feels like they say and do all the wrong things, even if done with good intentions.
Impact of the Diagnosis for Parents
Following the diagnosis, your perceptions of your child, ability to cope, and confidence in being a good enough parent can take a hard knock and family functioning can go off track. Some parents say that they are very 'up and down', feeling on occasions like their world has come crashing down and at other times hopeful that they are doing OK and coping. Some couples say that their relationship is tested, possibly accusing each other of not being supportive or coping with emotions in different ways. Some parents say that they don't feel able to manage with routine daily tasks such as food shopping and laundry, instead feeling overwhelmed by the diagnosis and what it means for their child and family. This is a temporary state of affairs and the family can often quickly start to try to develop a new normality and begin to function again. Parents are resilient because it becomes apparent very quickly that their child needs them. The physical health condition may mean that you as parents have to develop a range of new skills and routines, but your child needs you to continue being a parent, so those hopes and expectations can be realised after all.
The Importance of How You View Your Child
It takes time for any parent to adjust to the diagnosis of a medical condition and requires continual readjustments and recalibrations, not just about knowledge of the medical condition and how it may impact on your child's health, but also about how you perceive and interact with your child. For example, do you see them as sick or limited in some way by their health or capabilities? Or do you see them as a child first and foremost with some additional needs and adjustments that have to be taken into account in order that they overcome any limitations? It is perfectly normal to seesaw between worries that the diagnosis will limit your child's opportunities, and feeling optimistic that they will achieve their ambitions, especially in the early days.
Importantly, the approach you take towards the impact of the physical health condition on your child will influence their beliefs about themselves and their condition. They will learn from you how to approach any challenges they experience and will benefit from the knowledge and skills you have gained. We know that some children and families can develop a very positive sense of self despite their health condition, and they are admired and respected by the professionals who work with them. So it is important that you do feel you can get the support and advice you need to help you with the task of caring for your child in order to enable them to take a positive approach themselves.